Pre-launch at The International Cannes Yachting Festival 2021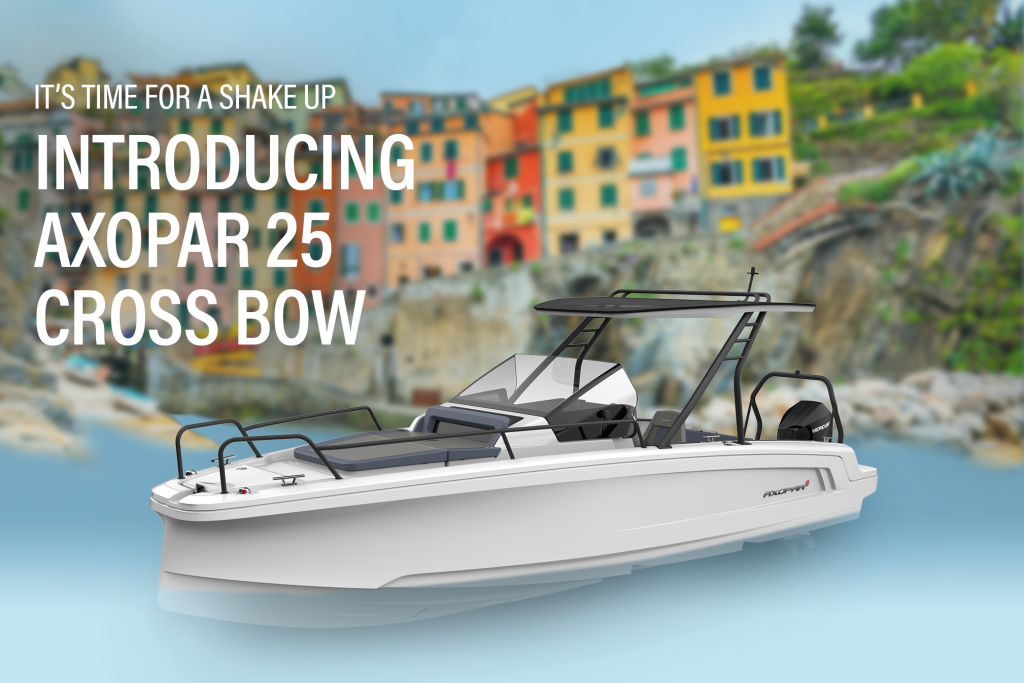 For anyone looking for something more than just a straightforward day boat, this year's Cannes Yachting Festival bears witness to the pre-launch of the new Axopar 25 Cross Bow – Axopar's foray into the thriving world of cuddy cruisers, and another leap forward in terms of value for money; now offering more space, more overall comfort and more all-round capability.
Utilising our knowledge, and the time and effort spent developing our larger siblings, we want to call this model a true crossover between comfortable day boating and extended island-hopping, where the seaworthiness and handling all Axopar's are renowned for come to the fore.
The ultra-cool looking Axopar 25 Cross Bow has a raised 'cuddy cabin' sleeping accommodation, where the cabin defines the character of this remarkable new boat.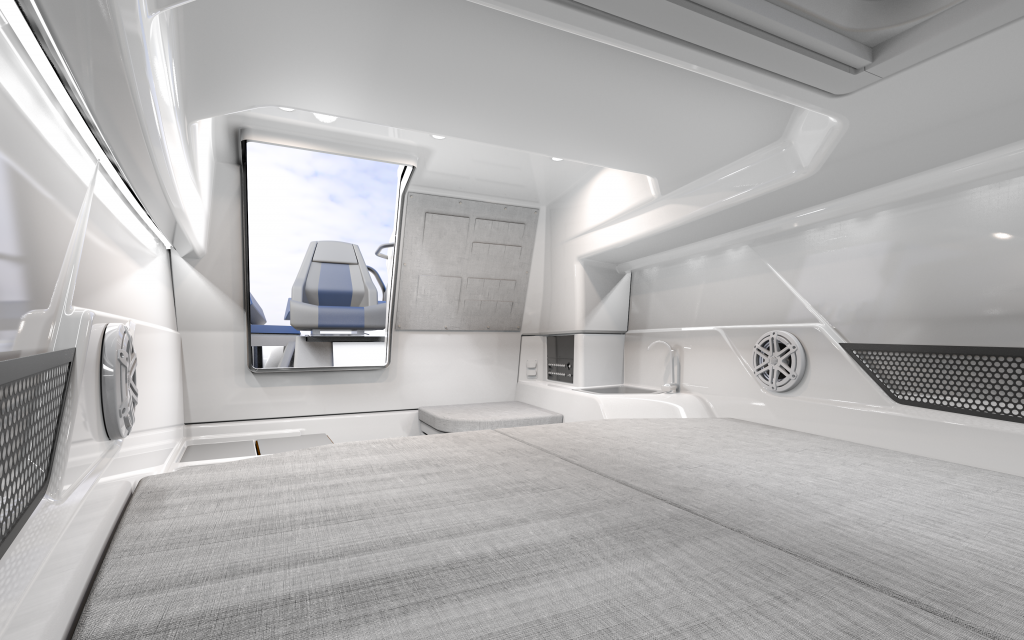 A full width cushioned sundeck is positioned atop the cabin roof, with a sloping back rest that follows the rake of the front screen. A large/anchor/storage locker is left completely free for access and for ease of stepping on or off the boat in bow-to mooring situations.
The wide helm console and front screen offer a helm seating area with more space and room for a step through entrance to the front cabin, in a style used by other larger Axopar models.
We predict the market will view this boat as a trendy more dynamic, sportier and more sea-worthy alternative to many of the often rather bland, hard riding and similar looking cuddy cabin boats that appear to dominate the current market.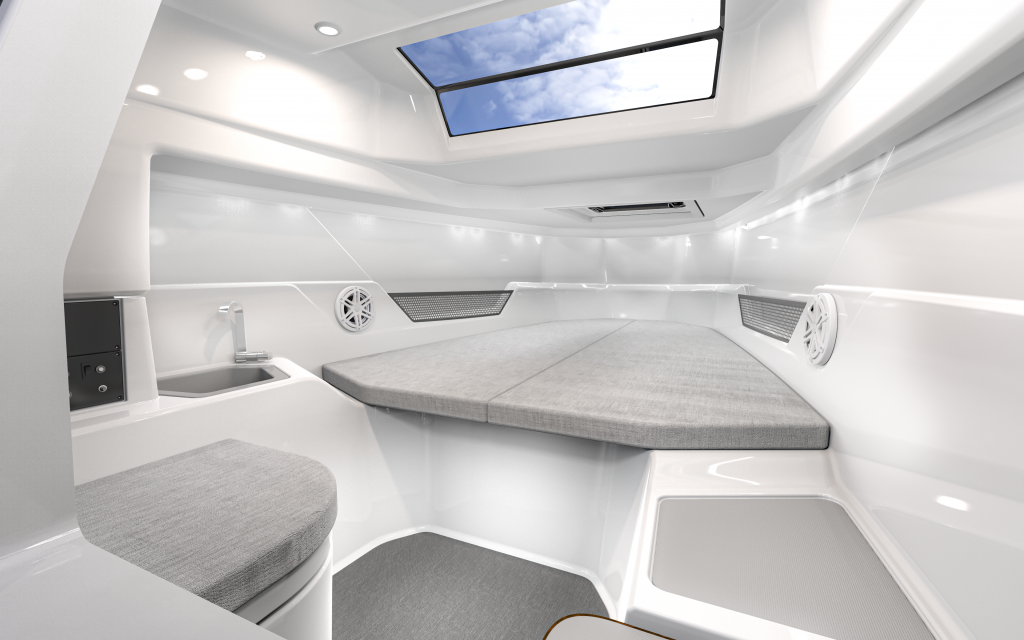 One of the best selling variants is likely to be the ever popular, all weather optional T-Top version. The T-Top roof is fixed securely in place by way of discreet, black-painted supports attached to bulwarks on either side. The roof consists of a fixed canvas top within a GRP surround and is also available with an optional folding canvas top that will open up the cockpit to the sun when wanted or stay closed for maximum shade.
A good spread of deck seating modules and storage options will enable customers to configure the boat precisely to their every need. Three different aft deck layouts will be available at launch, including a large U-shaped sofa for six people, a multi-storage compartment with seating (either for four seated sideways or two facing forward with sundae rearwards, or the forward-facing rear bench seat for two-people as standard.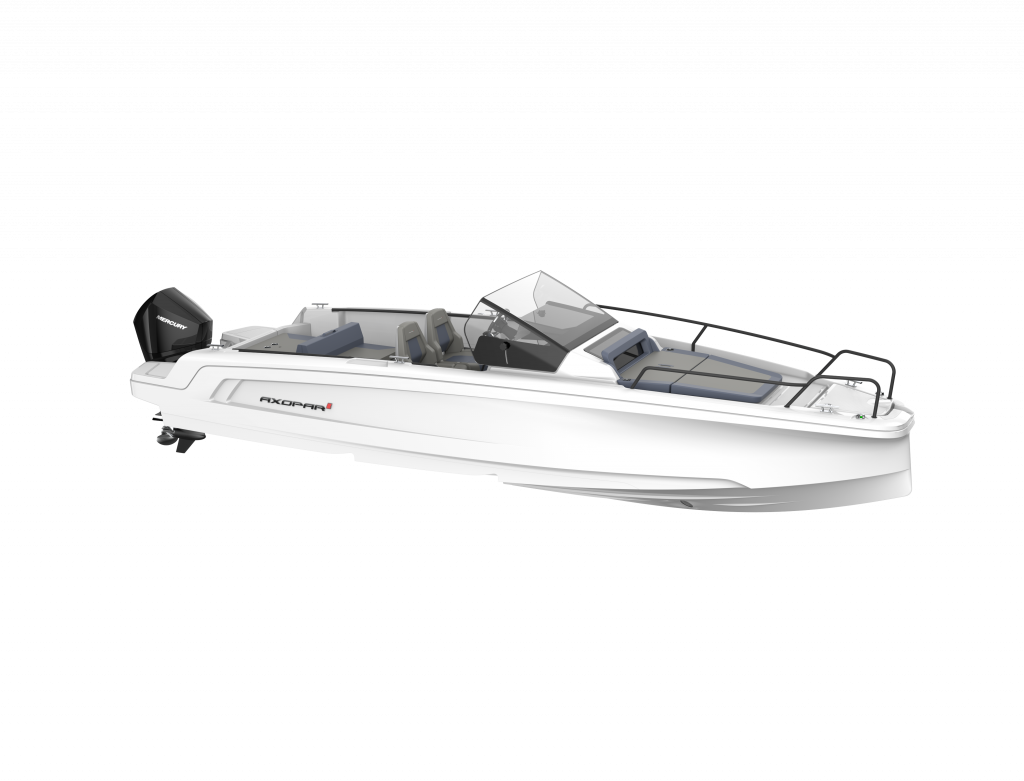 Whether for fishing trips, diving, water-skiing or any other form of coastal cruising escapism and adventure, the trailerable Axopar 25 is the new market standard.
It's time for a shake-up and the Axopar 25 provides just that – an innovative and compelling solution but strictly adhering to it's proven award winning legacy and DNA.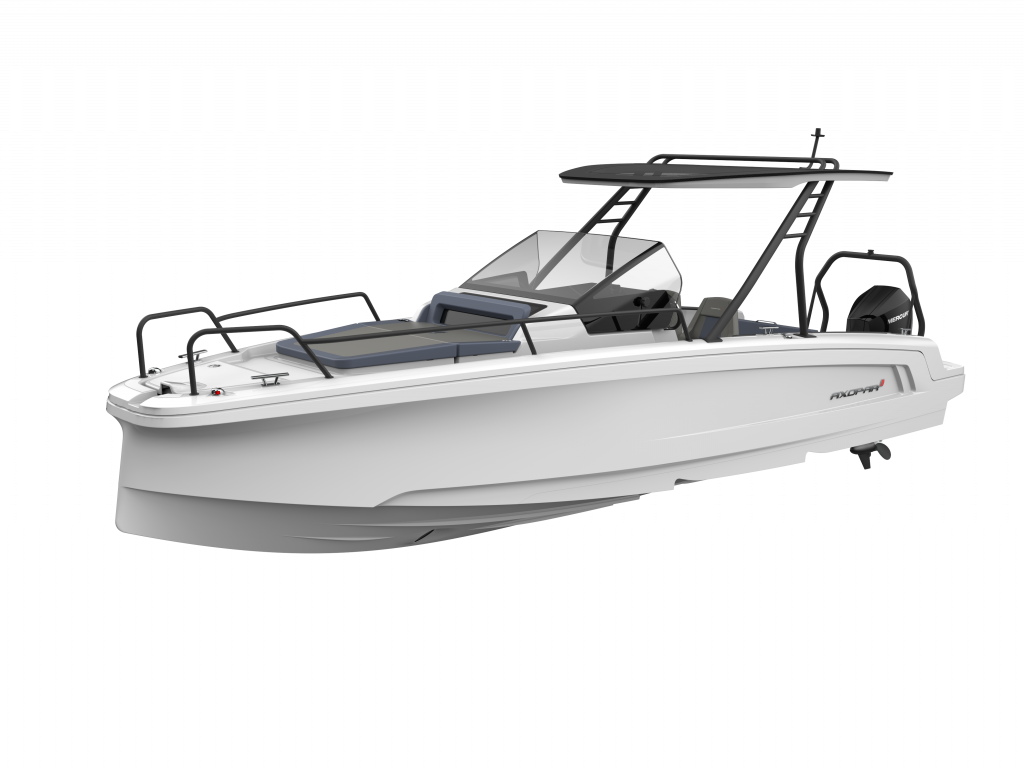 The Axopar 25 Cross Bow will have its official World Premiere during Dusseldorf BOOT 22 and serial production will start in January 2022, slightly later than planned as a result of the current pandemic wreaking havoc on global supply and manufacturing. The boats displayed at Cannes Yachting Festival are pre-production models aimed at gathering feedback and responses from the market prior to the model's World Premiere.
If you are interested in owning the new AXOPAR 25 – please get in touch with us to register your interest now.