The world leader revolutionised
In less than four years, the ground-breaking Axopar 37 has revolutionised the market for outboard-powered sports weekenders and cabin boats with its unique concept. Axopar's innovative solutions, multi-functionality, and versatile 'One Model –One Word' approach has resulted in over 2200 boats produced to date. In use in more than 70 countries around the world, making Axopar one of the most globally talked-about new brands in its size range. With more than one Axopar 37 leaving the factory every day and over 1000 Axopar 37's sold to date, the global demand for this award-winning concept remains strong.
We are proud to announce that we have now sold over 100 new Axopar 37's to customers prior to its World Premiere! To cope with current demand, we are now ready to take the next steps in Axopar's evolution, by expanding production to a second site together with a new OEM partner located in Poland.
Co-founding partner, Jan-Erik Viitala, says: "The joint passion shared with Axopar owners all over the world keeps us motivated to develop the best possible products and ensure we stay ahead of the game at all times. We have listened to our customers and we are excited to reveal the new revolution of the Axopar 37 range."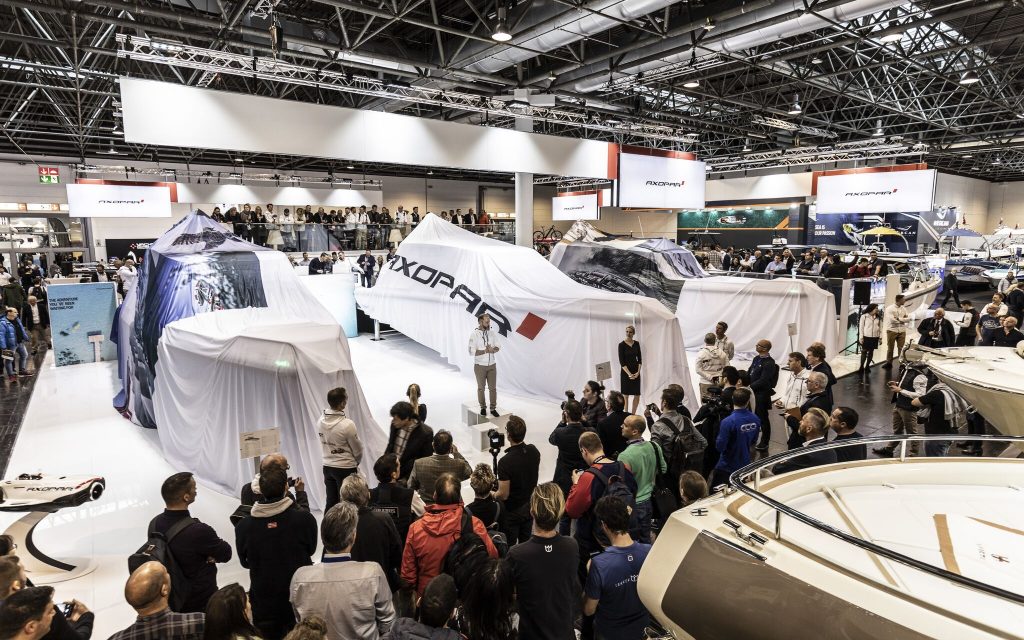 Pushing Boundaries with the new Axopar 37 range
By listening to our customers' feedback and interacting with current Axopar owners, we have improved functionality and practicality on board, resulting in a completely new space-experience, and all at the right price-point. Our R&D team set us on a course to revolutionise the 37 concept all over again. With an array of features and benefits never seen on a boat within this field. We have enhanced everything that you can touch and feel on the boat. The clever thing about the concept is that the new 37 clearly feels and looks that it's now a bigger boat than its predecessor, but in reality, thru extensive development, we have been able to keep the same nimble and agile size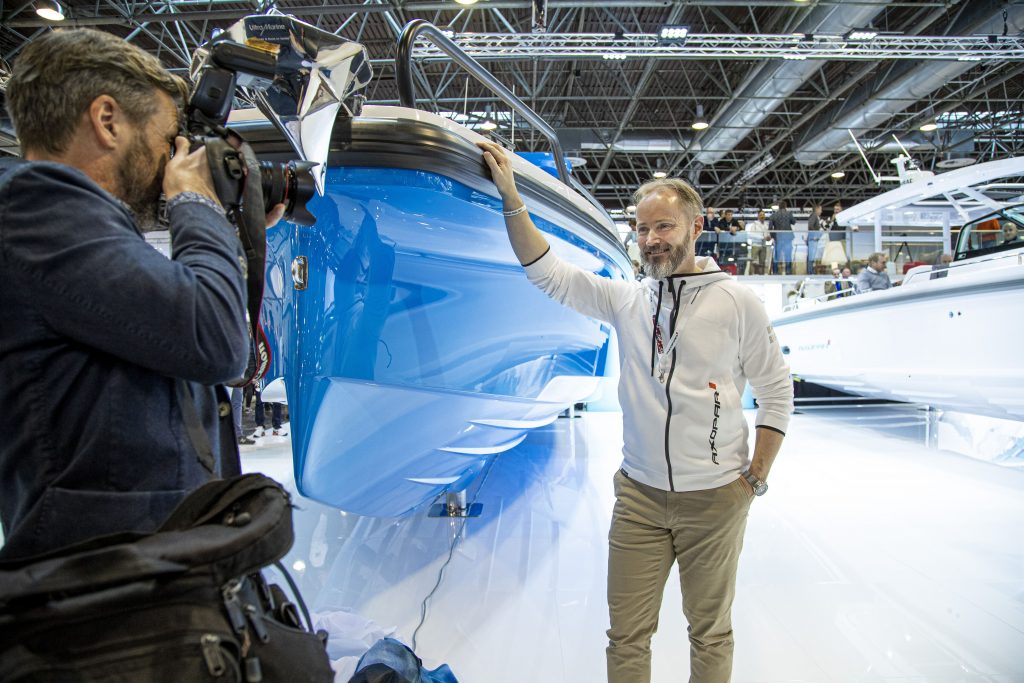 Dare to be different
Whether you choose the Spyder, the Sun-Toporthe new innovative cross-over, the XC Cross Cabin, you can be assured the new Axopar 37 range will take an entire family out for long-range adventures in supreme comfort and safety with capacity for overnight sleeping and enjoyable social moments onboard. The Axopar 37 range offers an even more comfortable ride with enhanced driving dynamics, while at the same time remaining very responsive and sporty in its character.
Introducing an entirely new hull-superior in terms of performance and handling-with intuitive driving, ensuring that even customers new to boating will feel confident and in control and all of this, even when its predecessor is still considered to feature one of the best performing hulls on the market.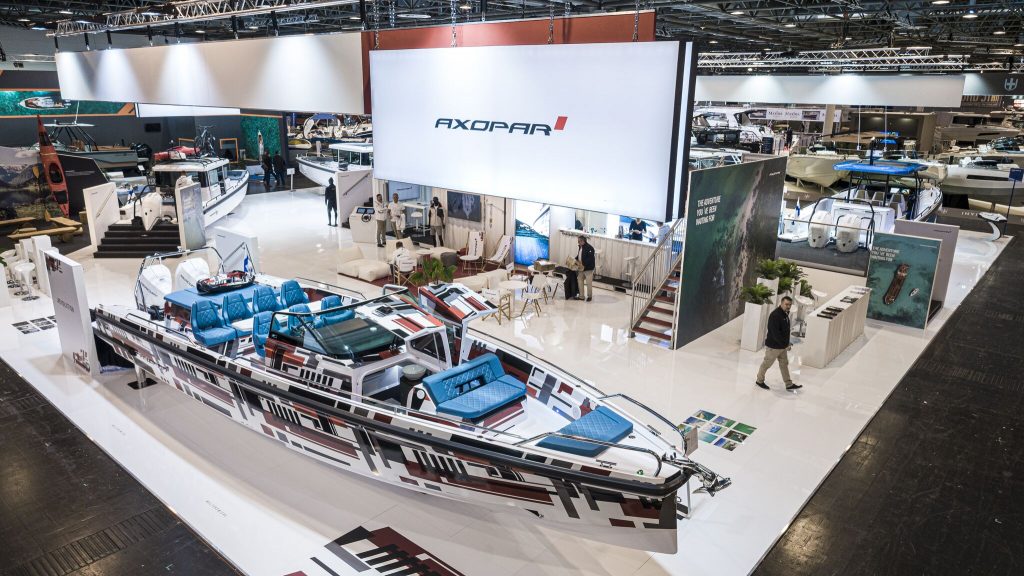 Meeting a new trend
Modern boaters want to maximise their experiences and include other activities during their day. Axopar owners love to bring along sports and adventure gear and we have responded to this need by implementing a new multi-storage compartment option for holding a large amount of additional water-sports 'lifestyle' equipment. In addition, the Sun-Top and Cross Cabinversions have a roof-rack option also for transporting large items of gear around.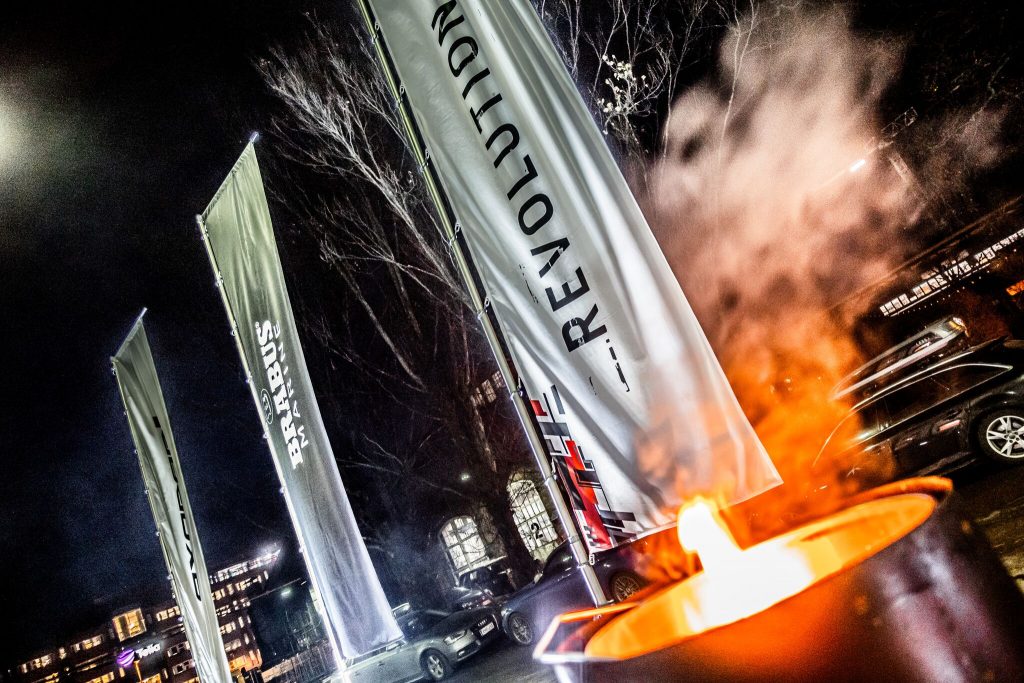 This is why we call it a Revolution:
The Ultimate Driving Experience
The action: Heavy investment in the further development of the hull's hydrodynamics, running countless CFD simulations, sea-trials, tests and calculations.
The Result: More responsive, safe, thrilling and sporty driving, fine-tuned directional stability, fantastic grip during cornering, safer handling, higher cruising speed, and lower fuel consumption. A stronger and stiffer hull with hydrodynamics that provides an extremely compliant, comfortable and quiet ride.
Significant fuel economy and cruising performance gains
The action: Vast hydrodynamical improvements in both efficiency and handling of the hull combining the technical advances brought in by Mercury Marine with their latest V8 FourStroke engines.
The Result: We have successfully raised the 'typical' cruising average and maximum speeds while at the same time lowered fuel consumption, as also extending the cruising range of the revolutionary 37 ́ hull. Equipped with 2 x 300hpMercury Verado V8 engines the result is now an increased top speed approaching 50 knots and up to 30% improved fuel economy across the 20 to 40-knot cruising range, achieving a low 2,4 l/nm consumption at 30 knots. The efficiency of the new hull results in an extended cruising range, on average with 35% or +75 additional nautical miles. Another significant improvement is the increased cruising speed held at the most efficient engine RPMs, (3500rpm for Mercury V8) now up from 22knots to 29 knots** meaning an improvement up to +35% without affecting fuel consumption.
** Hull design stats based upon a like-for-like comparison between previous generation Axopar 37' and "Revolution" 37' likewise Mercury 300hp L6 Verado and latest Mercury V8 FourStroke 300hp. Tank capacity remains unchanged at 730 litres / 193 US gal.
Striking Appearance
The action: To modernise, fine-tune and streamline the Axopar DNA by collaborating with world-class designers, naval architects, and marine industry professionals.
The Result: An evolution of the distinctive and instantly recognisable cutting-edge looks, with aesthetically pleasing yet functional solutions to further ensure that form and function go hand in hand.
Driver experience –the automotive approach
The action: Redefining the ergonomics and improving both forward and all-round visibility and wind protection of the helm. Developing a clean and uncluttered dashboard layout extendable with optional Glass bridge/Information Display touch screens. Raising of the helm floor and modifying the shape and curvature of the flared bow as well as fine-tuning underwater shapes of the hull.
The Result: A supremely practical and functional layout collecting everything within the skipper's reach, combined with the improved helm station creating a driving sensation similar to the feel and simplicity of driving a car. Improved directional stability at harbor speeds and relocation of the drivers' position with easy access to the sidewalks ensures the driver will always remain confident and fully in control behind the wheel.
The New Space experience
The action: Introducing a completely new solution –the Gullwing Doors* for the front cabin, by adding two parallel L-shaped doors side by side that opens vertically towards the foredeck sides.
The Result: Redefining how the use of an enclosed front cabin can be extended and best utilised to provide a more sociable feeling with full interaction with one's surroundings, making the front cabin feel like its part of the outdoors. The Gullwing doors provide an interaction with the outdoors, bring the outside indoors. Better access to the cabin and a better connection with people on deck.
New Level of Living Comfort
The action: A significantly enlarged front cabin with 30% more space than its predecessor, by optimizing the usage of deck space and moving the queen-size bed forward.
The Result: More spacious front cabin with increased living space and more natural incoming light. All in all, a better overall accommodation standard than ever before, now also available with the option of a fully enclosed toilet compartment and further upgradable with a shower compartment.
Elevating the Onboard Experience
The action: Introducing new features like revised modular configurations for the aft deck, such as multi-storage solutions* and roof racks*. Enlarged functional foredeck layout with new modular options available.
The Result: New solutions for carrying large items of water-sports and adventure gear with you. A revised foredeck layout boasting a sociable seating area with table* and upgradable to a sunbed with storage underneath*.
*Sold as optional equipment
Let the Adventure Begin!
Axopar 37 Spyder – The Ultimate Challenger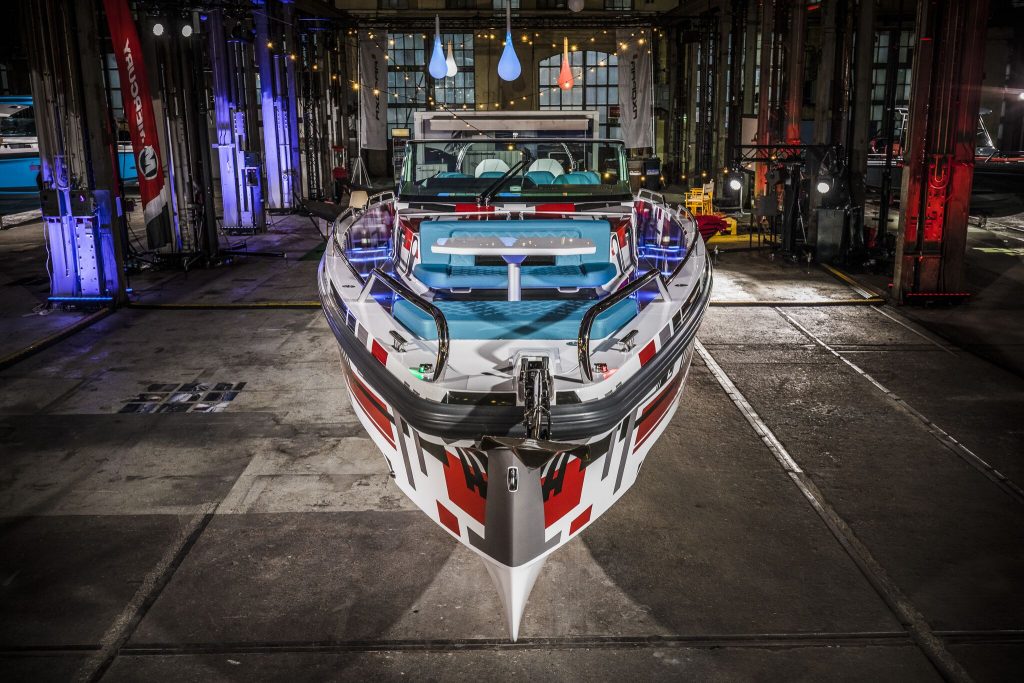 The Axopar 37 Spyder is a true competitor to RIB's and open speedboats but offering much more versatile space for socialising and extraordinary onboard creature comfort. A boat that keeps on giving, not just for high-speed pleasure and undiluted fun, but also as the boat that will satisfy the senses even when lying at anchor. Besides the benefits of the open cockpit, the Spyder still offers 'day-long' versatility, with an easily mounted, light-weight sunshade* providing protection. With its low height and weight compared to the other 37 footers, it's a perfect choice for use as a tender or chase boat for superyachts. It's fast, safe and fun to drive and easy to dock and store.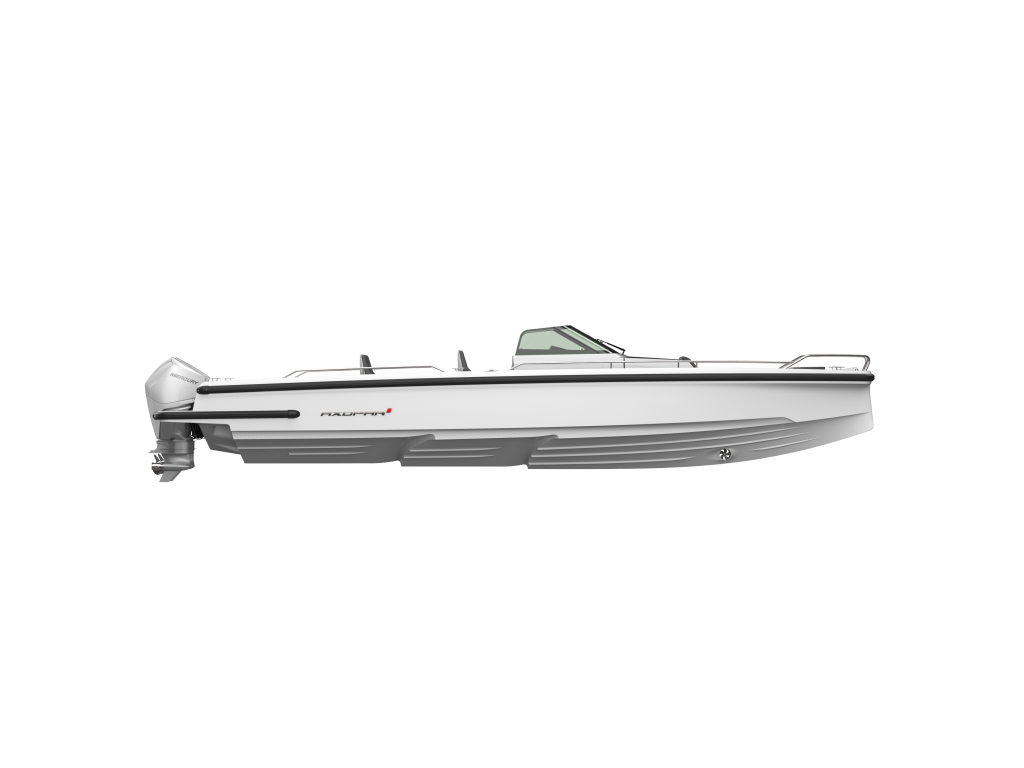 *Sold as optional equipment
Axopar 37XC Cross Cabin – The 'Gran Turismo' of the seas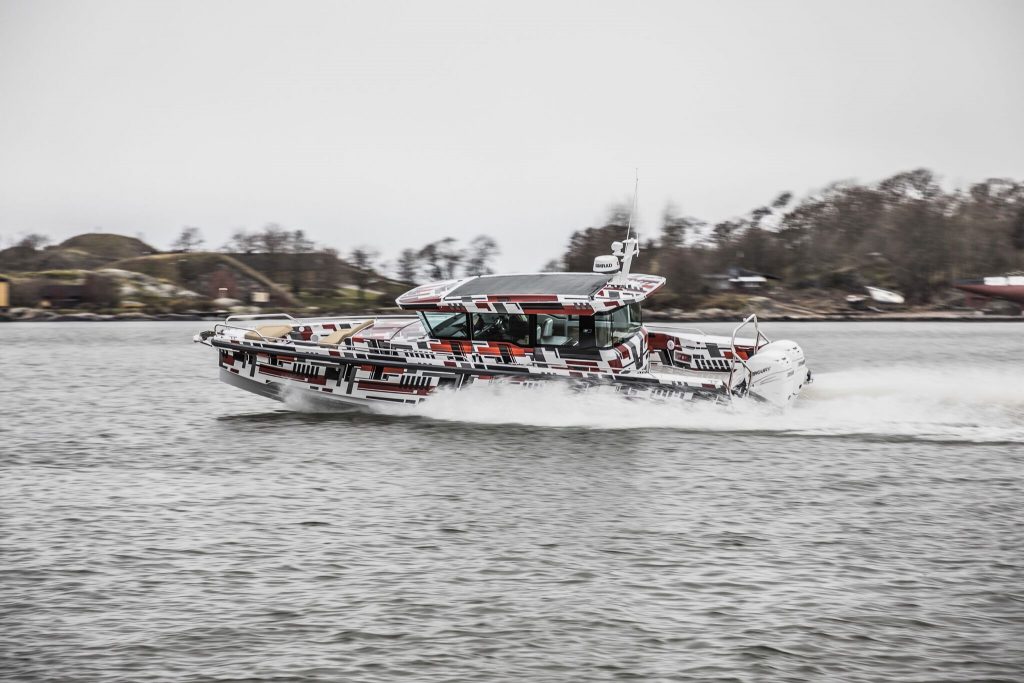 The new ultimate cross-over between open and enclosed boating, the Axopar37XC Cross Cabin challenges convention in both looks and onboard functionality bringing a new era to all-weather boating. This model combines the functionality, ease of movement, social outdoor and indoor spaces and versatility of outboard walkaround center-consoles with a spacious, fully enclosed weather proofed cabin, that with distinctive looks challenges traditional perceptions of cabin boats. We consider the 37 XC to be the Gran Turismo of the seas opening a world of possibilities for safe, extended voyages in comfort even in unpredictable weather and with 50% of all Axopar 37's being sold as cabin versions make this one single model one of the most important in the Axopar fleet.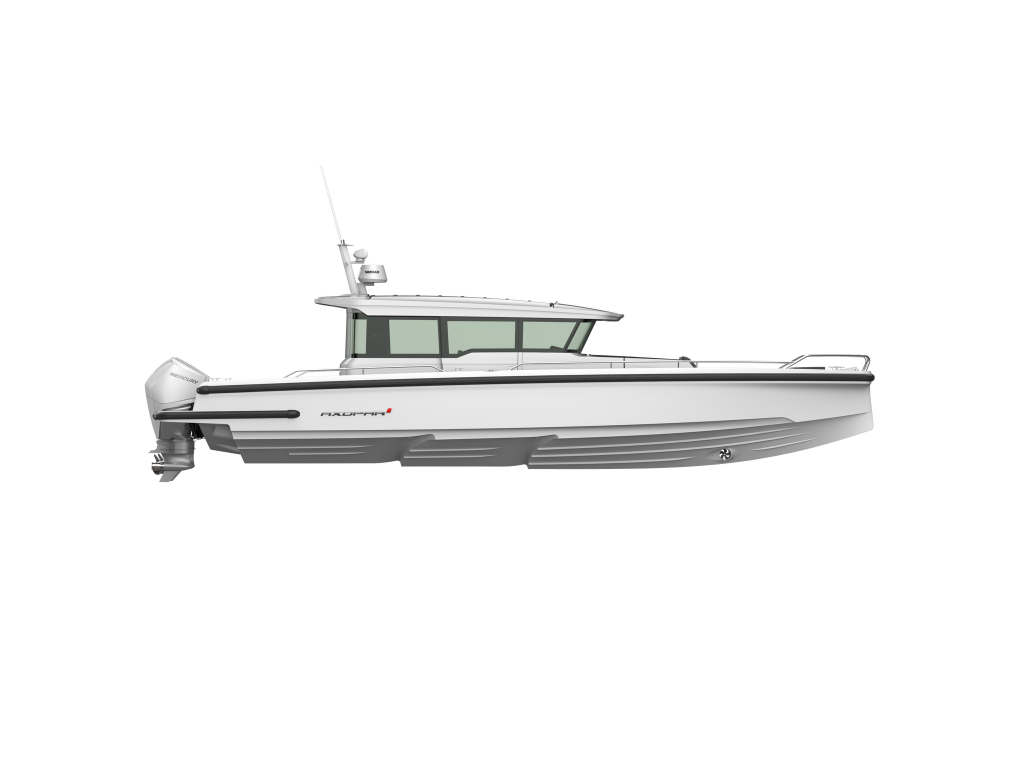 Axopar 37 ST Sun-Top – The Game Changer
The Axopar 37 Sun Top is the all-rounder the combines perfect protection and open space With its full-length shaded roof it offers the best shade and weather protection possible, this without compromising on the space and versatility of the walkaround sides and aft-deck area leaving the sides of the cockpit table and seating area now entirely un-obscured. The boat is loaded with a myriad of innovative functionality and creature-comforts. The optional new roof-rack and multi-storage compartment gives you the possibility to bring and transport all your on-water and adventure gear with you. Along-distance and comfortable passage-maker with its large protective screen, and full wraparound detachable canopy,encloses and protects the helm and seating for multipurpose usability.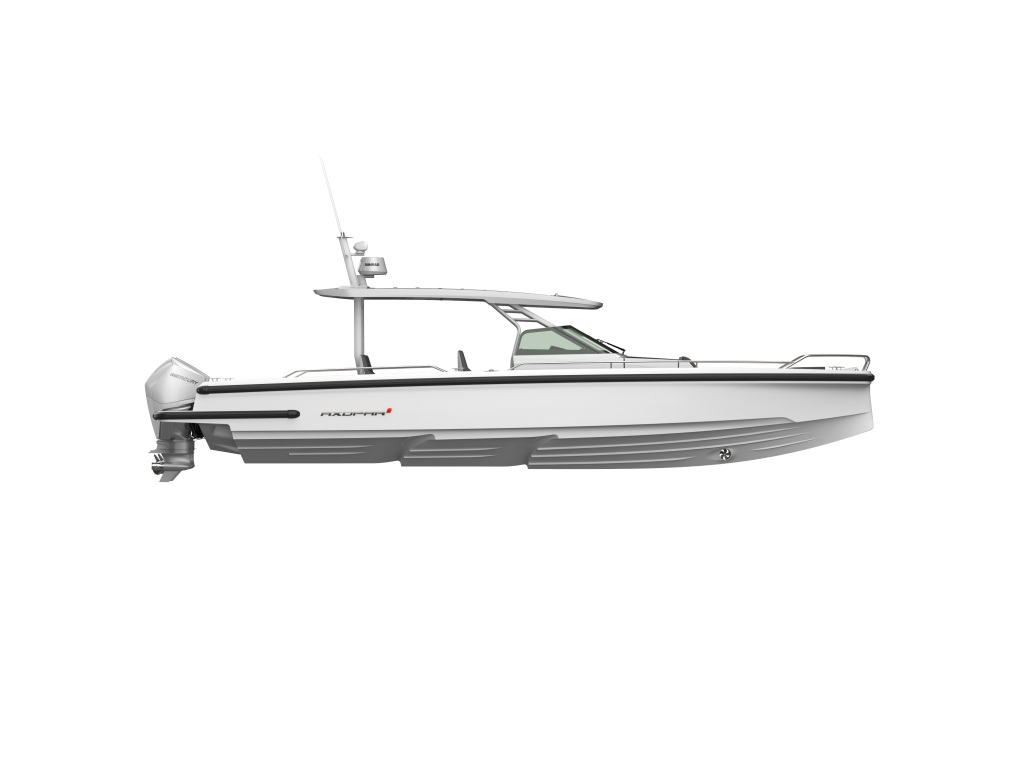 Additional Information
Starting price 0% VAT:
A-37 Spyder 88,500 €
A-37 Sun-Top 91,500 €
A-37 XC Cross Cabin 94,500 €
Main Specification
Axopar 37: Length: 11.5m / 37ft 9 inches
Beam: 3.35m / 9ft 8 inches
Draft: 0.85m /2ft 8 inches
Weight A-37 Spyder 3390kg / 7474lbs
Weight A-37 Sun Top 3590kg / 7915lbs
Weight A-37 XC Cross Cabin 3770kg / 8311lbs
Fuel Capacity: 730 liters / 193 gal
Construction: GRP
Classification: B-Offshore
Max Speed: 35 –50knots
Outboard engines: 2x 225hp / 2x 350hp
Berths: 2 persons –(+2)**with optional Aft-Cabin
For information on how to get your hands on one of the above 37 models please contact us at Axopar London group to begin your adventure.